Anna Ramsair:
Not Standing Still
Courtesy of artist

Jue Yang

You have been a visual artist for over 40 years. What disciplines and forms have you engaged with over the years?

Anna Ramsair

Painting, drawing, ceramics. I graduated from the academy in 1978. I started making ceramics in 2011 after doing a Master's in sociology. And as a consequence I was very much into the head and not into the hands or making things. I had the option to continue with sociology, but I wanted to come back to art. The thing that allowed me to come back to making art was ceramics. With it I don't have to use my head all the time. I can make incredible forms. And after making the forms, I can paint on them. Painting is still a main medium for me. Last year I finished two books. Each book is a report of a project where I painted every day in small formats.

JY

You wrote in your email, "pure autonomy does not exist." What has led to this realization?

AR

I have known this my whole life as an artist. I look around the world. I think about it and I feel about it. I create among the surroundings of my life, not from a vacuum. We are all products of our time. That's what I mean when I say "there's no real autonomy."

JY

What about the myth of autonomy when it comes to the artist's economic conditions? The artist is not autonomous in the economic ecosystem. The artist is dependent on funding, on exhibiting, on selling. What does selling art mean to you?

AR

I want to distinguish between "selling art" and "sending art out into the world." Selling is necessary because I have to live on something. But selling is not what dictates my work. I'm not producing for the market. I make art from my own core. Sending art out means that my work has to go out of my studio. Otherwise it serves no more function than satisfying my own pleasure, and that's not enough.

JY

How do you send your work into the world?

AR

Publications, Facebook, my own network. And exhibitions, of course.

JY

You have consistent sales nowadays. What did you do before to make a living? How long did it take you to get here?

AR

I teach. That's it. I teach at SKVR. I don't want to be someone who is only teaching for the money. That would drive me away from my art. With half or one day a week of teaching, I have enough money to pay the bills. I still do it now, but I have more sales, too.

To me, it all came together after my studies in sociology in 2010. I became more aware of my place in the world and the kind of artist I wanted to be. I wanted to be an artist without feeling constantly frustrated or poor or cynical. When I finished my art study in the late 1970s, I knew that frustration was a bad thing for an artist.

JY

What kind of awareness do you have now?

AR

In the past, I was commissioned to make participatory art and be involved in public art projects. I worked with other people. I worked with citizens. I did these projects just a few times, but they made me unhappy. What I really wanted was to work alone. After studies in sociology, I realized I could choose to be the kind of artist I wanted to be. I decided to work alone.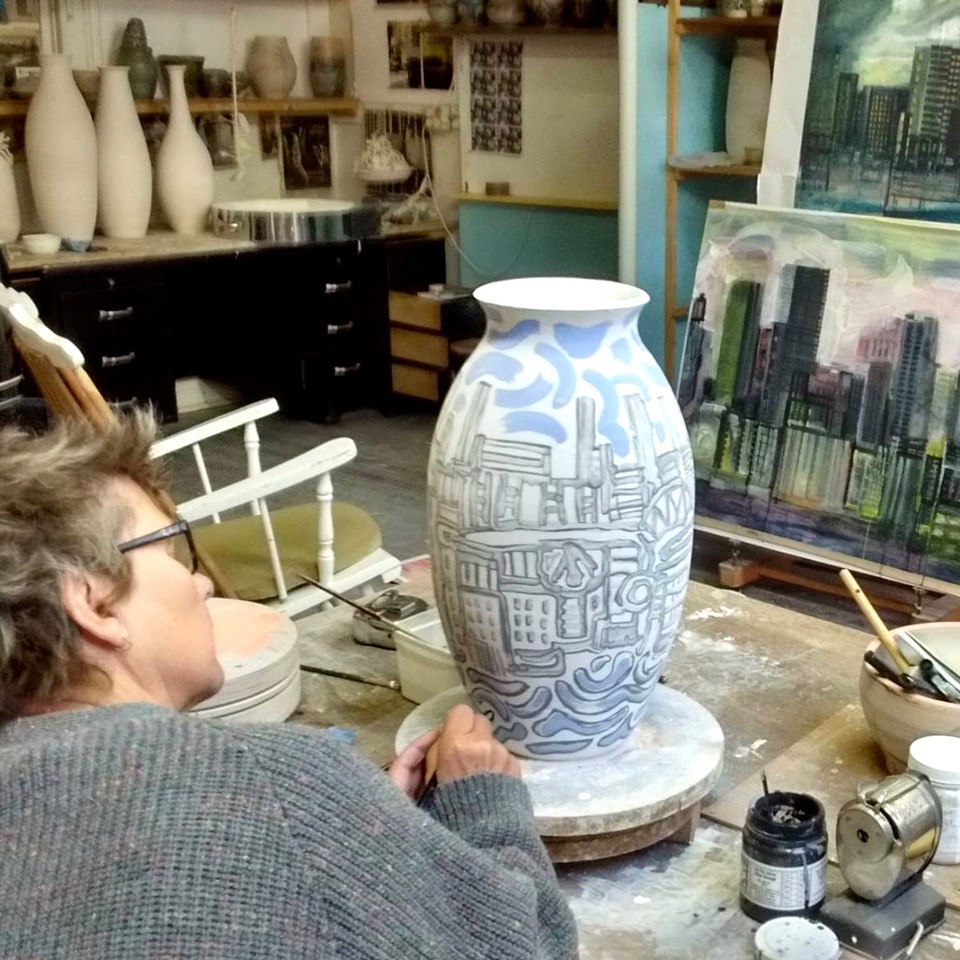 Courtesy of artist

JY

You wrote that your challenges are "to stay curious and interested, to not be stuck in the old ways." Do you find your challenges hard to deal with, or do they energize you?

AR

Now they give me energy. Before it was very difficult. I wasn't always sure about what I was going to do. I made paintings of landscapes or trees or people. I asked myself, "okay, what's next? Landscape again?" There were periods when I was lost. That kind of uncertainty was hard for me.

Now I have figured out the bottom line. Now the complex world around me keeps me busy. My work is about the ways we live together, what goes on around us and how we as humans react. I'm in the middle of a world that changes and changes again, and that fuels my work. I am always looking for connections with the surrounding world.

JY

Looking for connections: is that why you started Stichting The Orange Tree art project?

AR

Yes. In my studio building, there's a garden. It's empty. Everyone here works in their studios, and the place is always silent. I want to have more dynamics. I also want to create the opportunity where other people can come and do their thing. So for The Orange Tree art project, I look for people who develop themselves through the garden. I want to see that other people's work is also going into the world.

JY

Do you consider yourself a successful artist?

AR

Yes. Maybe not in an economic sense. I'm doing what I want. My process is going on and I'm not standing still. I think I'm a successful artist in that I can create my own work and way of surviving. I think many people find comfort, curiosity and intrigue in my work. That's nice, too.