Jack Eden:
Choices and Chances
Plasterboard Maquettes for the Five Platonic Solids (2020). Courtesy of artist.
Jue Yang
Can you tell me why you moved to the Netherlands?

Jack Eden
I moved to the Netherlands because I didn't want to move to Berlin. Lots of people from art school went to Berlin, but I'd visited the Netherlands once and got the sense that the Dutch seemed to have a much more integral sense of what culture was. The Rijksmuseum didn't feel like a kind of dusty museum for elderly white people... I really like Rotterdam – It has a kind of open and arty nature. Coming from Oxford, where everything was 500 years old, I really appreciated Rotterdam's forward-facing perspective.

JY
For you, "an understanding of the Dutch language doesn't necessarily forge a link with Dutch people." What is your experience with the language barrier?

JE
When I speak Dutch, it's very difficult to translate what I consider to be playful in English. This is one of the reasons why I don't speak Dutch so much. A lot of the ways that I express myself are very specific to English, and I don't feel like I'm very "me" when I'm speaking Dutch.

JY
How was your move from Oxford to Rotterdam?

JE

When I first moved here and I didn't have a studio, it was very hard for me to say that I was an artist. People would go, "where's your studio? Can I see some artwork?" And I would say, "no, I don't have a studio. I just moved here, I don't have any money now, and I don't know anyone." I really reduced the amount of work that I was making because I didn't have a foundation of comfort.

JY

You got a studio in 2020, in the early days of the pandemic. What have you been doing in the studio?

JE

The first artworks I made here were the Platonic solid sculptures. They're five mathematical shapes governed by unalterable laws – each shape meets the others at exactly the same angle in exactly the same way. Lots of the work I do is about mathematics and geometry. I like the fact that after thousands of years, there are still things that are unalterable. With the move to the Netherlands and everything new, it was very hard to hold onto one specific thing. Then corona happened, work was changing, life was changing, supermarket shopping was changing. When certainty doesn't exist in the real world, I get stability from my artwork.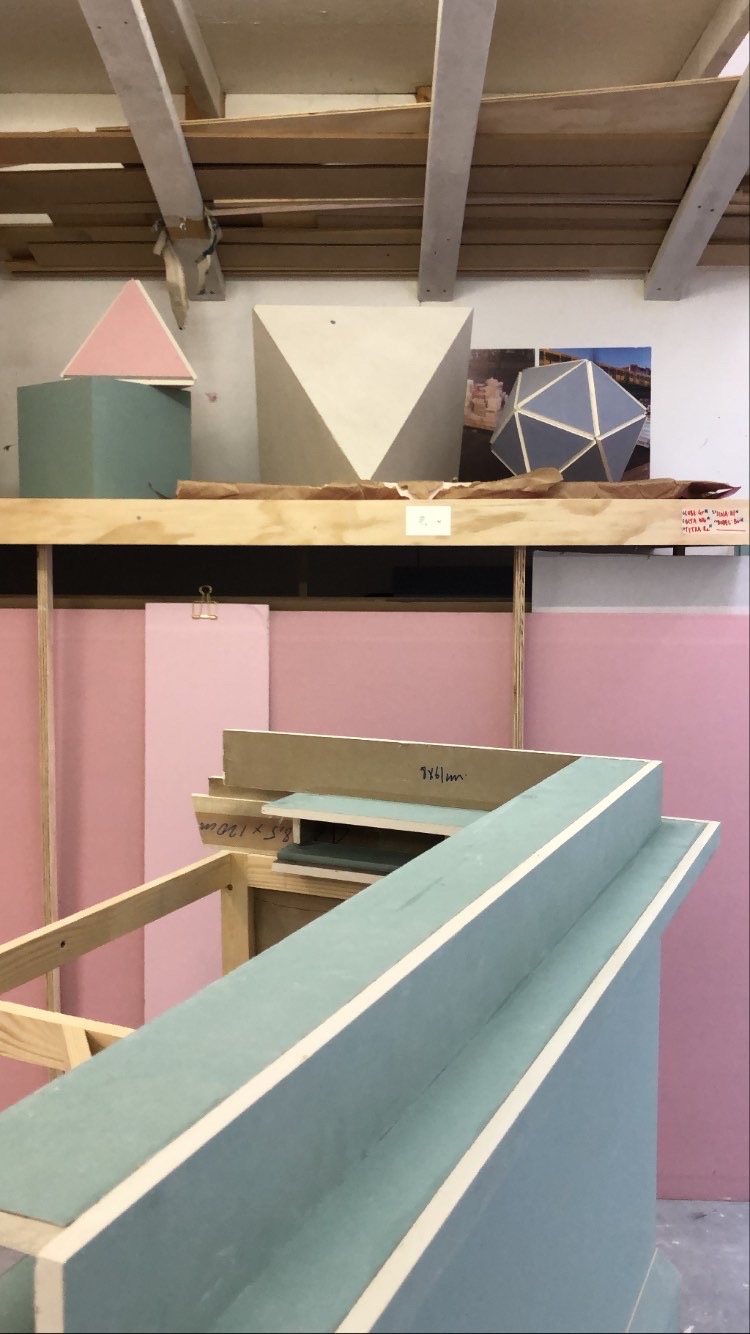 Studio shot with

Plasterboard Maquettes for the Five Platonic Solid

(2020) and a study for

Plinth for no one

(ongoing). Courtesy of artist.

JY

You also work as an editor and a translator for Dutch artists and institutions. How did you get into that?

JE
By accident. After I arrived in Rotterdam I was a barista for several years. Then I started writing English texts because someone said, "oh, you're English. I know somebody who needs copy edited and a text proofread." I started working for Erwin Olaf in Amsterdam, first doing copy-editing. Then they told me that they had material in Dutch and would like something in English, so with lots of internet and dictionaries, I started translating Dutch text into English.

I don't know if it's a career choice. When I'm confused about what I do — as is the nature for every artist — telling people that I'm an editor and a translator sounds definitive. It stemmed from just being an English person for 30 years and having a good grasp of grammar and structure. Being from the art world in England also meant that I have specific knowledge on how you write for the art world in English.

JY
Is the editing and translating work how you fund your art practice?

JE
Freelancing covers the cost of living and funds the artwork that I make. Financially, it's a one-way street; I'm not making any money from my art. My current work does have a nice overlap with my art because I edit and translate for museums, galleries and artists. It's not the same as being a barista where you do all this straining work right before completely changing the entire human being you are in order to make artwork.

JY
You've just put in a funding application to CBK. It was your first application for public funding. What's the proposal about?

JE
I'm very interested in this idea of the plinth of a sculpture: who's on top of it, how, why, when, and how the height and construction of the plinth communicates or skews power. I want to look at different plinths and pedestals in Rotterdam. Is a contemporary sculpture of a woman equal to an old protected sculpture of man? I was thinking how, as a white man, I can help elevate something that's not about me. I want to eradicate this idea that public statues and public sculpture are a very beige, white, elderly man pursuit.

JY
Why haven't you applied for funding before?

JE
If you look at my last sentiment about the plinth project, I feel that I don't really deserve to have the funding most of the time. I still fit into this white, Northern European, English-speaking male stereotype, which is to say, I fit into that Venn diagram of privilege. I think it's important for women sculptors and artists and People of Colour to get more exposure. This makes it sound like I'm more altruistic than I am, which isn't true, I'm just very self-conscious.

Also I don't think the kind of artwork I make is terribly fashionable. I never really felt like it fitted in the agenda of funding bodies. For this project, when I talk about having a sculpture by a gender-nonconforming person, I try to say it in this way that doesn't make me sound like I'm just ticking a box for representation. I think my place is to learn and educate myself and hopefully educate other people in the process wherever possible. But that's not a very attractive line to send to a funder.

JY
Is this part of feeling that it's hard to promote yourself?

JE
Even in my less socially-aware days, I wasn't a big fan of selling my artwork. My least favorite day as an artist is a private view for my own work. I prefer to articulate things through the artwork that I make, so I don't particularly enjoy explaining them. I also don't feel like I'm a tortured artist who's some incredible genius. I'm just a person who has these ideas and can translate them into physical sculptures. Maybe it's also an English thing, but promoting oneself is quite difficult.


How Tall is Goethe
(2017-21). Courtesy of artist.
JY
Based on what you said, do you want to be an artist in the art world? It sounds like the art world is an uncomfortable place to be.

JE
That's the irony, isn't it? I want to be a successful artist in the sense that I'dlike to continue making artwork, and I'd like to be able to fund making artwork by making artwork. After I made the Platonic solids, I made a series of photographic prints to be sold, so in some sense, I do want to become part of the art world.

JY
Are your challenges more existential or practical?

JE
I think they're existential. When I worked in an art gallery in Oxford, there was a film playing for the first exhibition that I ever worked on. In the film, the artist was recalling what his tutor at art school had said to him about how the world is full of stuff. It's full of crap. It's full of chairs and people and aggression and cups and animals and mud. "Why do you think you have the privilege to put this thing that you're creating into the world? I think that's a great question.