Maher Hasan:
Every Day Is Better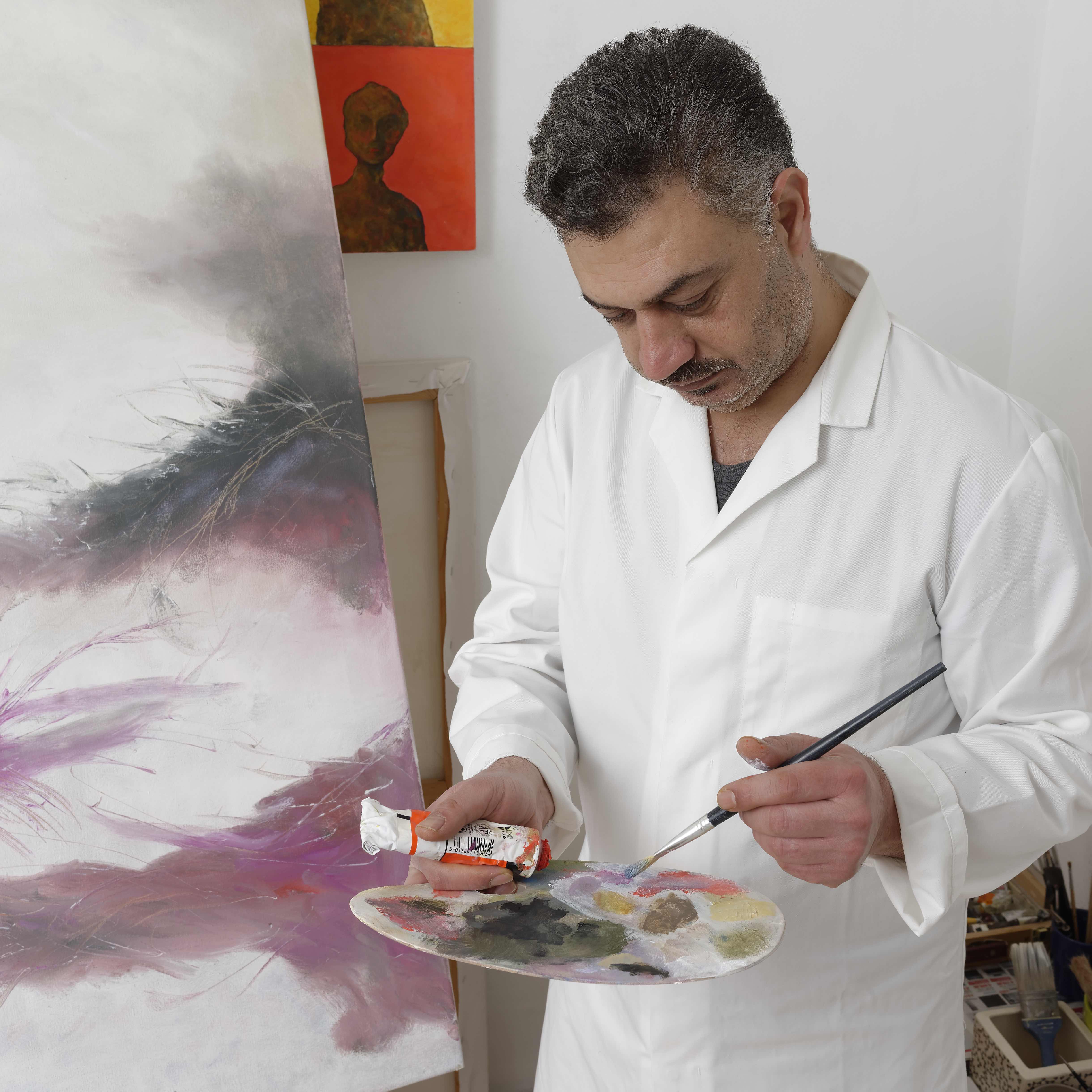 Courtesy of artist


Jue Yang

You are from Syria. This is your seventh year in the Netherlands. How did you end up in the Netherlands?

Maher Hasan

I came as a refugee.

JY

Have you always been an artist in Syria?

MH

Yes, I have been an artist since childhood. I loved expression without social or political restrictions. I drew naked people, but I was forced not to display these paintings. When I dared to display them, they were rejected by the galleries. My first exhibition in Syria was in 1986.

JY

When you came to the Netherlands, were you able to continue as an artist? I imagine there must be a great amount of disruptions and changes.

MH

I have been working as an artist since I came here. I am currently studying drawing at Brein Puzzel for two hours a week. Working in Dutch has been difficult for me, as are the high costs of art materials. However, I don't find it difficult to make art. I do it out of my own heart without imitating anyone. I always look for something new without fear.

JY

How long have you worked with painting?

MH

I have always painted. I mostly use oil colors and a sculptor, and I have used other materials such as ceramics. Through my current study of drawing, I look for new topics, materials and ideas.

JY

You have worked on murals, at festivals, and with younger people in the Netherlands. What does working with the public mean to you?

MH

I have participated the Great Rotterdam Festival (2016), the Art Conference in the Hague (2018) and done a workshop at SKVR (2018). I love interacting with people. I like that my artwork can reach other people. I enjoy working through festivals, workshops and decorating the city. Interacting with the audience with me gives me a lot of energy.


Courtesy of artist


JY

You sold two works it the group exhibition "At Home, Everywhere – Heel de wereld is mijn vaderland," which took place at Verhalenhuis in Katendrecht. How did you become part of the exhibition?

MH

The artist Zoē D.Cochia, the owner of Niffo Gallery, was the one who nominated me to participate in the exhibition. She was asked by Verhalenhuis.

JY

You say that not speaking Dutch fluently affects how your work. Can you tell me more?

MH

The language affects me. I find it difficult to explain my artwork to others. I am progressing with the Dutch language now. It becomes better with the passage of time.

JY

Does your work in art pay enough for you to sustain your life, or do you do other things to make ends meet?

MH

I receive social assistance and have to give up many things in order to buy art materials. In general, I'm austere. I don't travel a lot and I don't wear fancy clothes.

JY

How has the pandemic affected your work and life?

MH

I suffered from isolation both from the pandemic and from an open-heart operation a year ago. I have now passed the danger stage after the operation. I have kept working from home and completed several paintings about the pandemic.

Every day is better. I want to go back to cultural activities, visiting museums and galleries and attending concerts.

JY

Broadly speaking, what gives you joy in life?

MH

Love from others. Also, when I can help others and when I can be creative with my art.